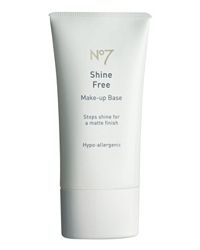 I really want to try
this
!!
It is a base you apply before your make-up, a primer, and it apparently stops your skin feeling oil and looking shiny, which I suffer from a bit too much.. Although the St Ives Facial Scrub I purchased has minimised it a lot.
The website says this :

Keep shiny skin under control all day long, with No7 Shine Free Make-Up Base. The mattifying oil-free base has light-reflecting particles which help disguise fine lines and flaws
That, to me, sounds wonderful - That is if it works. I think I will purchase this at some point and give it a go because if it does what it says it will, I will be a very happy girlie!
Anyone out there tried this? opinions please.